We will be pleased to welcome you in one of these clinics:
The Clinic of the School of Health in the center of Stroud at 1, Cheapside GL5 3BN
The Cheltenham Holistic Health Centre, 32 Wellington Rd, Cheltenham, GL52 2AG
In our home clinic in Coates near Cirencester, GL7 6JU
Over Skype in your own home
Skype consultation
This is a wonderful option to choose which allows us to treat patients anywhere in the world with the support of a video Skype connection between ourselves and the patient. We can give guidance on how to set this up for our consultation or follow ups
The first homeopathic consultation might take up to two hours. Then we recommend at least two consecutive follow ups approximately one month apart which supports the fine tuning to determine the best homeopathic remedy and potency choice for each patient.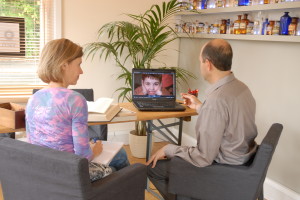 FREE 20 min EXPLORATORY CONSULTATION
call or email for details
First homeopathic consultation up to two hours-£75




Follow up appointments up to one hour-50£

Children first consultation -£55
We also offer:
Meditation- one to one session
Cranial Sacral Treatment

Holistic Massage Treatment
We do offer reduced fees for low-income clients.
realcurehomeopathy.com


kdbehrens@yahoo.co.uk


mobile: 07812391751
ph: 01285   771334
realcurehomeopathy.com